© Brace Hemmelgarn-USA TODAY Sports
---
SANTA CLARA — Nearly three months ago, as the 49ers wrapped up OTAs, Jimmy Garoppolo highlighted red zone efficiency as a point of emphasis.
"I think a big part for us as a whole offensively is just finishing in the end zone," Garoppolo said. "Last year, we got stopped short a couple of times more than we'd like to."
Last season, the 49ers converted 47 percent of their red-zone trips into touchdowns, the 27th-best mark in the NFL. They got worse when Garoppolo was appointed starter, despite their 5-0 record with him leading the offense. They converted just 11 of their 24 red zone trips into touchdowns in the final five weeks, settling for field goals 12 times. Garoppolo and company did, however, finish strong. In their final two games, they scored eight touchdowns in 11 red-zone trips.
The red-zone inefficiency resurfaced this preseason. The 49ers were the league's most prolific offense but converted just one of its five red-zone trips into touchdowns.
Fast forward to last Sunday's Week 1 matchup at Minnesota, and the red-zone woes stung the 49ers once again.
They scored one touchdown, their only of the game, on four red-zone trips. Even that third-quarter score required Garoppolo to improvise as he was pressured up the middle. He escaped and found rookie Dante Pettis in the back of the end zone.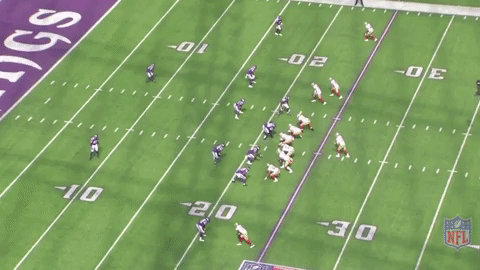 The 49ers had chances all game long.
In the second quarter, San Francisco moved the ball to the Minnesota two-yard line. On first down, Alfred Morris ran one yard up the middle, falling just short of the end zone. On the following play, he fumbled as he plunged into an army of Vikings defenders.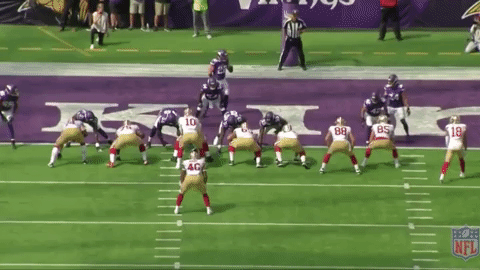 The 49ers didn't enter the red zone again until fewer than 10 minutes remained in the third quarter. On third down and six at the Minnesota 15-yard line, Garoppolo targeted Pierre Garcon on a corner route. He elevated to make a play on the ball, but he didn't secure it. The 49ers settled for a field goal on the next play, narrowing the Vikings' lead to 17-6.
The one that stung came at a crucial point in the game.
The 49ers trailed, 24-13, with 8:17 left in regulation. On third down and goal at the Minnesota five-yard line, Garoppolo targeted tight end George Kittle, who beat Vikings All-Pro safety Harrison Smith up the middle. Garoppolo overthrew Kittle in the back of the end zone, and the 49ers kicked a field goal on the ensuing play.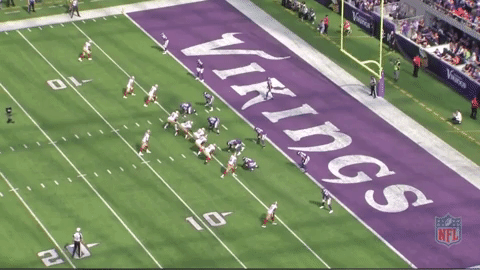 "I missed George on the one— I shot it too high," Garoppolo said Wednesday. "Then, it's the little things. We keep saying that it's the little things that we need to correct and get right in a short time period."
Despite four turnovers, several miscues, and an 18-point second-half deficit, the 49ers had chances to win a challenging season opener. All three failed red-zone trips could have ended better had San Francisco executed, proving vital in a one-possession final score.
Just like it was in June, red-zone efficiency has become one of Kyle Shanahan's points of emphasis as San Francisco prepares for the visiting Detroit Lions Sunday. They held the New York Jets out of the end zone in three of four red-zone opportunities last week.
"I think if we make all three of those, which we're very more than capable of making the higher percentage of the time than not, then we had a great day in the red zone," Shanahan said Wednesday. "That's the entire NFL. It gets tougher down there, and when you have an opportunity and you miss it, you will not have a good day in the red zone. Not going to reinvent the wheel, but we're going to try and get better at that stuff."
Coyle out at least six weeks, veteran linebacker acquired
The 49ers linebacking corps has recently diminished. Malcolm Smith sat out of the opener with a hamstring injury, and Reuben Foster is serving a two-game suspension.
On Sunday, Brock Coyle suffered both a concussion and broken bone in his back. The back injury is characterized as a T-4 compression fracture, requiring at least six weeks of no contact.
With Coyle sidelined for the foreseeable future, the 49ers signed veteran linebacker Terence Garvin to a one-year deal Wednesday. Garvin, 27, has played with four different NFL teams, including the Seattle Seahawks, where he primarily played strong-side linebacker. Mark Nzeocha is currently San Francisco's only healthy option at that spot.
"I've played against (Garvin) a couple times, and he has some inside backer experience," Shanahan said. "So, he's got the versatility there to help on all three. He's also a good special teams player, so we were very fortunate that he was available for us."
Injury report
The following players did not practice Wednesday: Adrian Colbert (hamstring), Joshua Garnett (dislocated toe), Marquise Goodwin (quadricep), Mike Person (foot), Malcolm Smith (hamstring), and Joe Staley (veteran day). Garnett walked around the facilities with a noticeable limp.
The following players were limited in practice: Erik Magnuson (hamstring), Jaquiski Tartt (shoulder), K'Waun Williams (rib), and Ahkello Witherspoon (ankle).
Warner focused on improving upon productive debut
Fred Warner earned the start at middle linebacker in his NFL debut. He played like he had anchored the San Francisco defense for years.
The 49ers' third-round draft pick logged 12 tackles, 11 of which were solo, one forced fumble, a quarterback hit, and one pass defended in the loss. Warner became the first 49ers player to amass at least 10 tackles, a forced fumble, and one pass defended in a game since NaVorro Bowman did so against the Arizona Cardinals on Dec. 29, 2013.
Warner still feels there are areas he can improve.
"Production-wise, I had a really good game," Warner said at his locker Wednesday. "But, after I watched the tape, I could have done a lot of things way better, with my technique and missed opportunities, so I am looking forward to doing that this game (against the Lions)."
Warner clarified that he is focusing on his drops and breaks in coverage. He feels if he can break faster, he can make more plays.
As the game progressed, however, Warner was happy with his improvement in those areas. His performance reflected that.
On second-and-11 situation with 13:57 remaining, Vikings quarterback Kirk Cousins squeezed a throw to Adam Thielen, who killed the 49ers all game long. Warner read the route and nearly forced a turnover.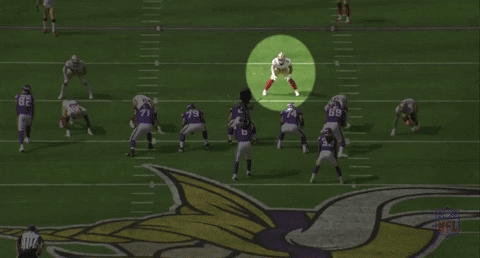 Warner's best chance for an interception came at a crucial stage. San Francisco had narrowed Minnesota's lead to eight points. On third and six with two minutes remaining, Warner jumped Vikings tight end Kyle Rudolph's route and nearly picked off the pass.
As the middle linebacker, Warner handled the communication duties. He was pleased with how he relayed the calls, with the exception of a couple plays.
"The confidence they have in me to be able to play that role (means a lot)," Warner said. "It's my job to be able to prepare and have that confidence at that position to give the calls to the rest of the defense."