© Brad Rempel-USA TODAY Sports
---
SANTA CLARA — The ubiquitous nature of 49ers fullback Kyle Juszczyk's job only fits him.
As a high school senior, he was the leading rusher and receiver at Cloverleaf in Lodi, Ohio. He moved to quarterback whenever the offense ran the Wing-T. Then, he became a two-time All-American tight end and H-back at Harvard, leading the team in receptions as a senior.
Now in his sixth NFL season, Juszczyk, a reigning two-time Pro Bowler, has set the standard at a position that is not used as liberally as it once was. With spread, pass-happy schemes permeating the league, most fullbacks are delegated strictly to short-yardage, rushing situations.
Not Juszczyk.
Last year, the 49ers signed him to the richest fullback contract in NFL history — by a wide margin. He signed a four-year deal worth $21 million, including $7 million guaranteed and a $5 million signing bonus. For reference, Buffalo's Patrick Dimarco is the second-highest paid fullback in the league at $8.4 million, which equates to just 40 percent of Juszczyk's deal.
"We thought he was the best fullback in the league," 49ers head coach Kyle Shanahan said, "and we were going to go get whatever that market dictated."
Shanahan deploys 21 personnel (two running backs, one tight end, and two receivers) more frequently than any other NFL coach. Having a versatile fullback who can run, catch, and block in a variety of formations stimulates his offense.
Last year, Juszczyk comfortably led all NFL fullbacks in usage, playing nearly 36 percent of his team's offensive snaps. His 315 receiving yards led all fullbacks. Juszczyk caught 33 of his 42 targets, good for a team-best 79 percent catch rate in 2017.
Juszczyk's usage has ballooned to another stratosphere through three games this season.
He has played 119 snaps so far, which equates to 60 percent of the offense's plays. After Jimmy Garoppolo, Pierre Garcon, George Kittle, and Dante Pettis, Juszczyk has logged more snaps than any 49ers position player. That includes NFL-leading rusher Matt Breida and fellow running back Alfred Morris, whose snaps are nearly split.
Juszczyk's all-encompassing role in the 49ers offense was encapsulated in the Kansas City matchup last Sunday.
The 49ers quickly went down, 14-0, late in the first quarter. They just converted on fourth and one in Chiefs' territory. One play later, Juszczyk was sent in motion to the 49ers' line. He dragged across the play, disguising as a blocker, then looped out when Garoppolo faked the handoff. He hit Juszczyk for a wide-open, 35-yard touchdown to put the 49ers on the board.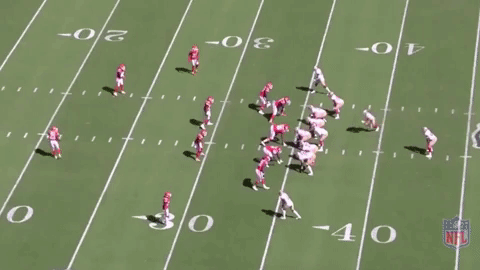 The night before San Francisco's 38-27 loss to the Chiefs, run game coordinator Mike McDaniel texted Juszczyk, informing him that play would be installed in the game plan.
"Check out this clip," McDaniel told Juszczyk. "You got a big one coming."
It was the first time the 49ers ran the play in a game for a fullback. This is nothing new for Juszczyk.
"I love it," Juszczyk said Wednesday. "I honestly just have fun out there. My whole football career has been like that, where I have always been all over the place. I am never in one spot. I am happy to keep doing that."
Fast forward to the fourth quarter of the Kansas City matchup, as the 49ers shrunk the deficit. On first and 10 at the Chiefs' 17-yard line, Juszczyk ran a speed option. He took the handoff, froze the approaching defender, and lateraled the ball to Breida, who ran ahead for 13 yards.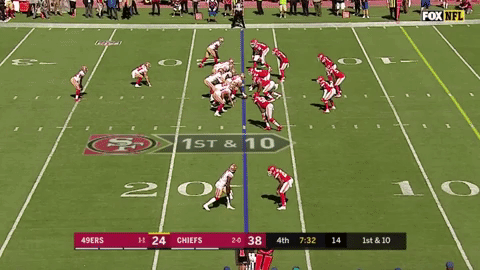 The play summoned memories of Juszczyk's high school days.
"I had it in the arsenal," Juszczyk said. "It was definitely a really fun play to run and execute in a game."
Shanahan moves Juszczyk all around the 49ers offense like a pawn. He splits out wide like a receiver, on the line like a tight end, in shotgun like a running back, and, as you'd expect, in traditional goal-line formations like a fullback.
Shanahan covets Juszczyk for his versatility.
"How smart he is that he can go out and catch passes and he can line up anywhere without a ton of reps?" Shanahan said. "That allows us to do anything we want out of two backs."
Juszczyk has six catches for 107 receiving yards through three games. None of his receptions have been similar.
He is responsible for Garoppolo's longest completion of the season, which came in Week 1 at Minnesota. Juszczyk motioned from the backfield into the slot. He stalled his route, disguising as a blocker, then looped out as his defender focused on Garoppolo. He found Juszczyk, who turned the 30-yard pass into a 56-yard gain.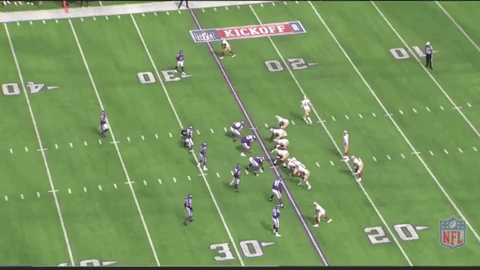 In Week 2 against Detroit, Juszczyk lined up out wide and exploited soft coverage for a nine-yard gain.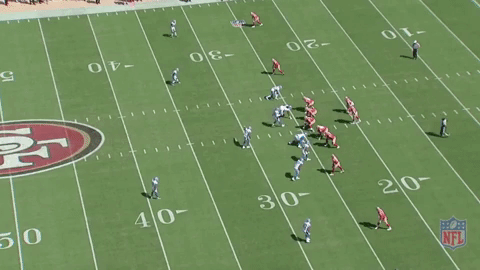 Later in the third quarter, on third and one, Shanahan drew up a play-action throw for Juszczyk, who gained the lone yard the 49ers needed for the first down.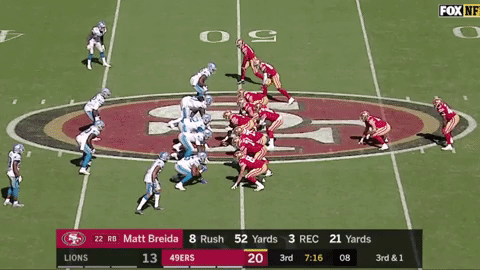 One of the routes Juszczyk runs most is similar to the play above, but he fakes to the side of the play-action before pivoting the other way. The 49ers ran this last Sunday, but the Chiefs defended it well.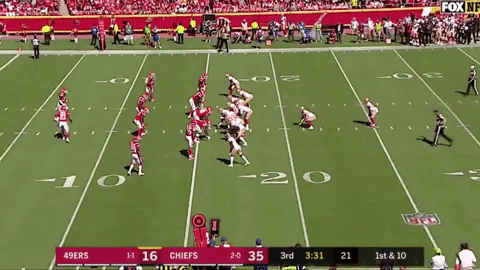 The complexity of Shanahan's playbook, combined with Juszczyk's abilities, have posed newfound problems for opposing defenses.
"For me, when you have a fullback who's versatile, it's an issue," 49ers defensive coordinator Robert Saleh said, referring to Juszczyk.
Juszczyk has also played a role in San Francisco's much-improved ground game. Last year, the 49ers ranked 21st in total rushing. This year, they rank second, led by Breida's league-leading 274 rushing yards. The 49ers are averaging a league-leading 4.9 rushing yards per carry before contact, underscoring the team's tremendous run-blocking.
Like most players, Juszczyk has gotten more comfortable in his second year in Shanahan's system. Juszczyk's usage uptick reflects his growing knowledge of the offense's intricacies.
"You start to understand just how things fit together as a whole," Juszczyk said. "You don't just understand your role— you understand the whole scheme of things, and that has been a big benefit of mine."
Juszczyk has become such a central part to this 49ers offense that it would look odd without him in it. Just 17 NFL running backs have played a higher percentage of their offenses' snaps than Juszczyk this year. He has played 25 percent more snaps than the next most-used fullback, New England's James Develin.
As long as Juszczyk can stay healthy, he is virtually guaranteed to make his third Pro Bowl appearance this season. He is setting a new standard at the fullback position, while highlighting all it can do in the modern NFL.