© Kirby Lee-USA TODAY Sports
---
SANTA CLARA — The most positive breakthrough from the 49ers' two-point loss Sunday is none of their injuries have long-term implications.
Dante Pettis and Joe Staley sustained knee injuries and did not return, and several more 49ers players exited before checking back into the game. During Kyle Shanahan's Monday-afternoon press conference, he said Pettis is the only player whose Week-4 injury should sideline him in Week 5. He will be considered "week-to-week" after Sunday's matchup with the visiting Arizona Cardinals. Staley, Weston Richburg, and Mike McGlinchey, offensive linemen who suffered knee injuries in the defeat, will be questionable. Marquise Goodwin (hamstring and quad) is also questionable.
Shanahan expects Richard Sherman (calf) to sit Week 5 but didn't wouldn't rule out a return. Jaquiski Tartt (shoulder) is scheduled to play after missing the past two games. Matt Breida suffered a shoulder injury but is OK to play.
For a team whose fortunes have changed with major injuries to major players — namely Jimmy Garoppolo and Jerick McKinnon— the 49ers emerged from Sunday's physical game with the Los Angeles Chargers without similarly deflating news. That doesn't make preparations for the upcoming matchup with the Arizona Cardinals any easier.
"It's a real unusual roster situation where guys aren't out enough to put them on IR," Shanahan said, "where all of the guys except for Pettis are questionable this week. I'd be surprised if they practiced until Friday."
Shanahan doubles down on play-calling decisions before halftime
Leading 17-14, the 49ers got the ball back at their own 25-yard line with 47 seconds remaining in the first half. They ran three consecutive pass plays but failed to move the chains. After 13 seconds on the game clock lapsed, they punted on fourth down— and nearly allowed a touchdown.
Chargers returner Desmond King II returned the punt for 56 yards to the San Francisco 32-yard line. If 49ers punter Bradley Pinion hadn't stopped King, by sprawling out and forcing him to trip, he would have likely scored a touchdown. The Chargers ultimately made a field goal to tie the game entering halftime.
In a two-point loss, these decisions will always be revisited retrospectively. But Shanahan stood by his approach, saying he felt confident the 49ers would march downfield and score before half.
"I know how big of a deal a three-and-out is, I did," Shanahan said. "You realize you put the defense in a bad situation there. If you know that's going to happen, I'd rather just take a knee and hope we made it easier. I also know that if I had to do it over again, I am going to try that. And 17-14, I think we need to score some points in this game, and I think we have an opportunity to do it there."
Issues of missed tackles still not resolved
One of San Francisco's areas of emphasis after its Week-3 loss at Kansas City was improving tackling. The 49ers had 17 missed tackles in the game. Their 43 missed tackles entering Week 4 led the league.
Typically, they only practice tackling during one allowed padded practice each week. But last week, they added additional tackling circuit drills in one non-padded session to hammer home the point.
The tackling had improved throughout the first half of Sunday's 29-27 loss. But the issue resurfaced in the second half, particularly on a couple hard-nosed Melvin Gordon runs.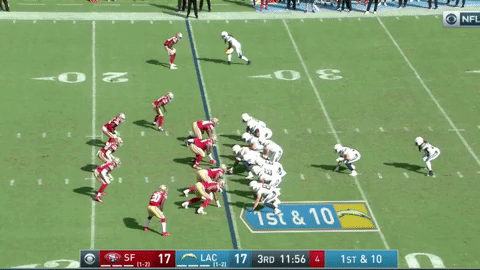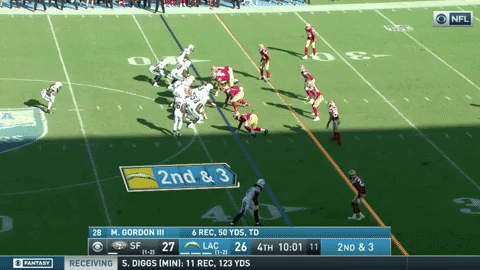 Shanahan feels the tackling improved Sunday, though he said it deteriorated as players got tired in the second half.
"I believe we took a step in the right direction," Shanahan said. "By no means was it good enough, and I think we will continue to go in that direction and not take steps back."
Solomon Thomas' snaps steadily increasing
Solomon Thomas played fewer than 50 percent of snaps in each of San Francisco's first two games. That was partly a product of the platoon of defensive ends the 49ers rotate, but it was surprising considering Thomas enters a big year after failing to live up to his No. 3 overall pick status as a rookie in 2017.
His workload increased in Week 3 as he played in 57.3 percent of snaps. John Lynch told KNBR last Friday he feels Thomas should play a little more moving forward — and he did in Week 4.
Thomas was on the field for 72.1 percent of San Francisco's defensive snaps in its loss to the Chargers. The only 49ers defensive lineman who was featured more is DeForest Buckner, who played 52 snaps to Thomas' 49. But he produced just two tackles and got beat in coverage. The 49ers mustered just one sack on the day — courtesy of Sheldon Day.