© Stan Szeto-USA TODAY Sports
---
Maybe it took a brilliant one-handed catch or 108-yard performance in primetime for the world to see George Kittle. The second-year tight end was one of San Francisco's stars in its 34-3 win over the Oakland Raiders on Thursday Night Football. His 71-yard catch was the play of the day and one of the top grabs of the NFL season.
This is nothing new.
Kittle has blossomed into one of the tight ends in football, a claim that is getting harder to refute with each passing performance. Through nine games, Kittle's 692 receiving yards rank sixth out of all NFL receivers and lead the next closest tight end by 48 yards. His 498 receiving yards after the catch are the second-most in the league. According to the Elias Sports Bureau, Kittle is the first tight end with multiple 70-plus-yard gains in one season since former Jets tight end Rich Caster did so in 1972.
Kittle is not just piling up yardage on explosive plays. His 41 receptions are 17 more than the next closest 49er, Pierre Garcon. Kittle has exceeded 78 receiving yards in five of nine games this year. Even in his worst statistical performance of the season, a two-catch, 22-yard day in Week 2, Kittle drew two penalties — one defensive holding and another pass interference — that resulted in 25 yards and led to scores.
He's consistently impacting the game, whether he is ripping big gains or not.
What's most impressive about Kittle is receiving may not be his best skill. He is also a devastating blocker, as we saw on San Francisco's opening drive of Thursday's win.
Check out Kittle (top of the screen) bulldoze Raiders cornerback Daryl Worley to the sideline on 49ers running back Matt Breida's 18-yard run.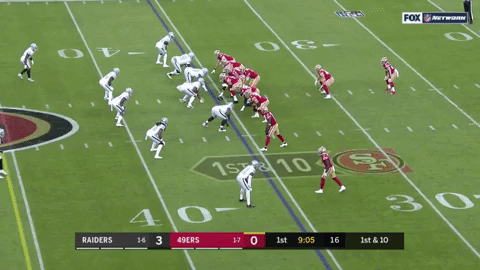 On the following play, Kittle (top of the screen) opened the hole for Raheem Mostert's 14-yard run.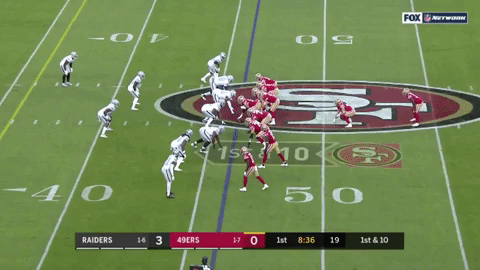 Kittle has made manhandling opponents a weekly occurrence, whether he is driving defenders out of bounds, into the end zone, or against the turf.
His most imposing block of the year came in Week 5 against Arizona. One play after he took a screen pass 45 yards upfield, Kittle (lined up on the left side) drove Arizona safety Antoine Bethea about 15 yards into the end zone.
Blocking was Kittle's most apparent skill as a prospect from the University of Iowa. He was not much of a receiver in college, logging just 20 and 22 catches his junior and senior seasons, though it's important to note Kittle played through injuries his final college year. Once he ran a 4.52 40-yard dash at the 2017 NFL Combine, which ranked third at the position and tied for 13th all-time for tight ends at the event, he emerged as a can't-miss prospect.
At least that's what the 49ers thought.
They wanted to draft Kittle but feared he would be selected somewhere around the third round. When he fell to the 49ers with the No. 146 overall pick, Kyle Shanahan and the 49ers front office were not taking any more chances.
"One thing that, to me, (Kittle) looks like first-round talent, but we had a feeling he was going to fall just in the fact that he didn't do a lot in the passing game," Shanahan said Friday. "All we hear about is people talking about him as a run-blocker and things like that, which is one of the reasons we really liked him. But, the main reason was the pass game. He didn't get to show that a ton which helped him, we thought, not get noticed in the first couple of rounds. But, we were very surprised he fell to the fifth."
Kittle quietly put together a historic rookie season in 2017. His 43 catches for 515 yards are the most for any rookie tight end drafted in the fifth round or later in NFL history. If he had not played through one nagging injury after the next, and missed Week 10, those numbers may have been better.
Last year, Kittle showed signs of what was to come, but he nearly split snaps with fellow tight end Garrett Celek. After Week 1 this season, we saw Kittle's role begin to expand, as he led the 49ers in targets (nine), catches (five), and yards (90) in their 24-16 loss to the Minnesota Vikings. He has played in 83 percent of the offense's snaps one year after playing in just 53 percent of them.
Celek, meanwhile, has suffered a dip in usage, playing just 33 percent of snaps after playing 49 percent last season. This year, he has made three catches and none in the past six games. He dropped a pass near the end zone in Week 4 that was a major factor in San Francisco's two-point loss. Celek also leads all NFL tight ends with five penalties.
His counterpart has emerged as the 49ers' best offensive player.
At this point, Kittle is arguably a top-three NFL tight end. No one will unseat New England's Rob Gronkowski, arguably the greatest ever at the position, until he shows noticeable regression. Kansas City's Travis Kelce, an All-Pro in each of the past two seasons, continues to produce in 2018. Philadelphia's Zach Ertz has 21 more catches and just 48 fewer yards than Kittle in one fewer game played.
But Kittle, who is a much better blocker than Kelce and Ertz, belongs in that top tier.
Earlier this week, Kittle was named to Pro Football Focus' All-Midseason team as the league's top tight end.
George Kittle is putting up some All-Pro numbers:
(rank among TEs)
Overall grade: 88.1 (2nd)
Rec yards: 692 (1st)
Rec yards/route run: 2.70 (1st)
Yards after catch: 490 (1st by 190 yards)
Missed tackles forced: 8 (2nd)
He's also one of top run blocking TEs in the NFL. #49ers

— Jeff Deeney (@PFF_Jeff) November 2, 2018
Kittle is on pace to amass 1,230 receiving yards this year, which would make him the first 49ers tight end to eclipse 1,000 yards in a single season. Vernon Davis holds the current franchise record with 965 yards.
In a 49ers season filled with frustration and inconsistency, Kittle's breakout campaign has been the most positive breakthrough.