© Cary Edmondson-USA TODAY Sports
---
Somehow, the issues continue to resurface. The 49ers secondary has been prone to coverage busts all year long, most recently in their 27-23 loss to the visiting New York Giants Monday night.
This young secondary has struggled to grasp the concepts of Robert Saleh's Cover-3 scheme. Injuries have magnified the issue. Each of the 49ers' starting defensive backs has been injured for varying amounts of time this season. The 49ers entered Monday night without starting safeties Adrian Colbert, who is likely out for the year with an injured ankle, and Jaquiski Tartt, who is nursing a shoulder injury.
There were a couple recurring themes in San Francisco's busts Monday night: Richard Sherman was generally not involved, and Giants receiver Odell Beckham Jr. typically benefited. Beckham Jr. caught four of 11 targets for 73 yards and two touchdowns, and his performance should have been even more prolific. Giants quarterback Eli Manning missed Beckham Jr. on a couple throws and reads.
For a passing attack largely centered upon one player, that the 49ers defense allowed Beckham Jr. to consistently roam free indicates a continuing disconnect among the secondary.
Let's start with the first of Beckham Jr.'s two touchdowns. On third-and-8, at the San Francisco 10-yard line, Beckham Jr. lined up in the slot. He curled at the goal line, then retreated into an open pocket in the back of the end zone. K'Waun Williams let Beckham Jr. slip behind him, and Jimmie Ward did not leave his stationary position until the ball left Manning's hands.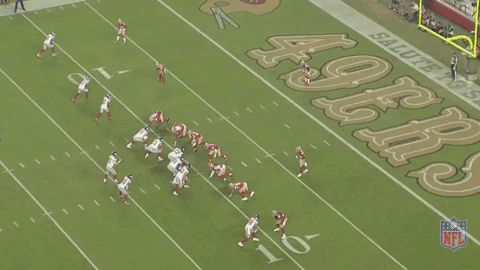 Fast forward to the second quarter. Beckham Jr., lined up in the slot, ran free over the middle, but Manning did not see him. The 49ers were lucky to avoid a 20-plus-yard gain.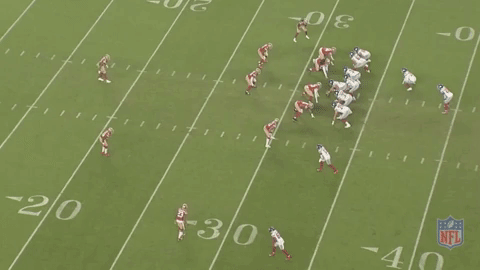 A similar situation resurfaced about one quarter later. Beckham Jr., lining up with Sherman, ran across the field uncovered and connected with Manning for a 30-yard gain. It appeared Sherman handled his third of the field, expecting help from either middle linebacker Fred Warner or Ward, who accounted for the deep receiver. Beckham Jr. hauled in the easy catch.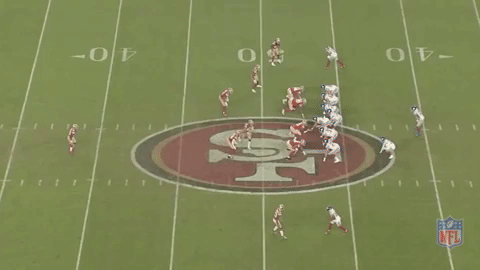 Beckham Jr. capped off that drive with his second touchdown grab. The 49ers were assigned to play two-man coverage, with two deep safeties providing over-the-top help, but Ward pressed much too close to the line of scrimmage, inexplicably doubling the tight end.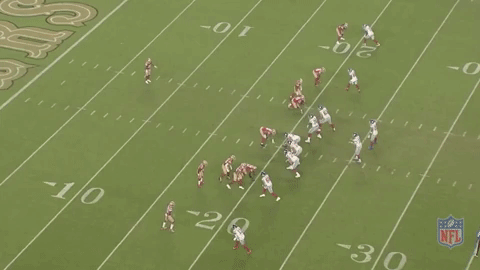 Cornerback Ahkello Witherspoon expected help over the top from Ward, but it never came. After the touchdown, Witherspoon threw a tantrum expressing his frustration, which later drew head coach Kyle Shanahan's ire.
"It was a coverage bust," Sherman said postgame. "(Witherspoon) played it like he was supposed to play it. It was a good call, it should have been a good play and in two-man you have to play it like he played it. When you play two-man, you play two-man and he played two-man. It was unfortunate the way the call came in and we didn't get the right guys on the field and it was just kind of a cluster."
One of the secondary's most egregious errors of the night ultimately did not matter. With two minutes remaining in the third quarter, Beckham Jr. lined up completely uncovered. Manning failed to recognize it, handing the ball off instead, and the 49ers made the stop.
Beckham Jr. should have had a walk-in touchdown. He pointed at himself after the play as if to communicate that to Manning.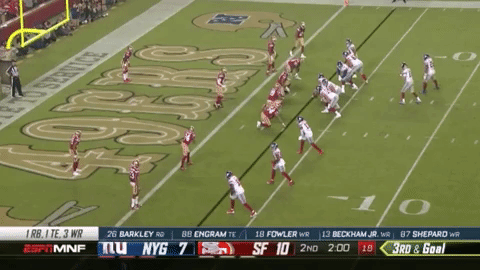 With the score tied, and 10 minutes left in the game, Manning missed Beckham Jr. again. The star receiver ran past Witherspoon, and Ward was late to help, but the ball was under-thrown.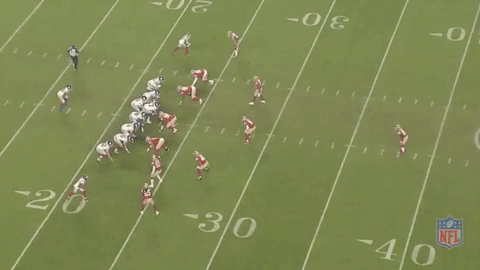 Saleh's Cover-3 scheme is designed to limit big plays. In an ideal situation, the defense forces a third-and-long, the edge rushers force a pressure or sack, and the secondary plays sound enough to prevent a gain over the top.
The 49ers have not been able to execute that game plan because the secondary has been prone to busts, and they have no dynamic edge rushers. On Monday night, they produced one sack against one of the worst offensive lines in the NFL. The 49ers pressured Manning on just 13 percent of drop-backs, according to ESPN Stats and Information.
It wasn't all bad. Witherspoon played well, contrary to popular belief. According to Pro Football Focus, he allowed one catch on five targets for 11 yards. He was not charged with the mistake on Beckham Jr.'s second touchdown.
Sherman showed why he is still one of the top cornerbacks in the NFL. The only noticeable mistakes he made was allowing a 13-yard catch to Beckham Jr. and a pass interference call that yielded 10 yards. He was also tremendous in run-stop situations.
Ward, conversely, struggled mightily. He was forced to play free safety with Colbert out for the rest of the year with an ankle injury. On several occasions, Ward was either lined up incorrectly or late to diagnose a play. Saleh's scheme requires a free safety who is assignment-sound and instinctive. The lack of continuity at the safety positions have contributed to the assignment busts.
Perhaps the bye week will give the 49ers much-needed rest and study time to address these issues. But they are not overnight fixes. In Saleh's second year as defensive coordinator, the 49ers secondary has looked lost all too frequently.