Credit: Stan Szeto-USA TODAY Sports
---
SANTA CLARA — The last time Marcell Harris started a football game had come 23 months prior, against the University of Iowa. The Florida safety tore his Achilles in a practice prior to his senior year and watched his final college season from the sidelines.
Harris said he never doubted his NFL prospects, but the rehab process was long and grueling.
"It's a whole different mentality," Harris said. "You are not playing ball. You are working to be the best."
When the 49ers drafted Harris in the sixth round of the 2018 NFL Draft, he was still working through his rehab, months away from practicing. Even when he returned, it was believed he would watch and learn from the veteran strong safeties, including starter Jaquiski Tartt, for the rest of the year before competing for the job down the road.
As Harris knows, however, injuries have a way of erasing and creating opportunities.
Tartt's nagging shoulder stinger sidelined him two weeks ago at Seattle, and backup Antone Exum moved to free safety. The attrition moved Harris into the starting strong safety role. The rookie insists he was not nervous, but he admits the size of CenturyLink Field, and the deafening presence of the Seahawks' fanbase, added to the anticipation of his first NFL start.
"Going out there, having that adversity at your back," Harris said Wednesday, "that was the challenging part, just to keep my head on straight, just to keep focus."
Harris' first extended NFL action came with some expected rust. He missed a couple tackles and took some bad angles in the 49ers' 43-16 loss.
"He's a kid that plays with no hesitation," defensive coordinator Robert Saleh said later that week. "When he sees it, he triggers. But, as far as footwork, angles, tackling, all the different things that pop up for getting his first amount of full time, all that stuff was a bit behind, but you make your biggest jump from week one to week two in my mind. So, he's got a really good opportunity to go in there again and see how much he can improve."
Harris aced his encore. In San Francisco's 20-14 win over Denver last Sunday, Harris finished second on the team with six tackles and two for a loss. His best stretch came with fewer than 10 minutes remaining. He made three tackles on consecutive plays, including stopping Denver running back Phillip Lindsay short of a first down on fourth-and-3.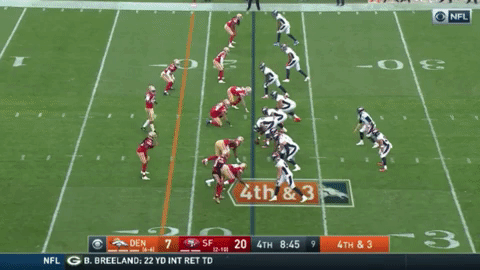 Harris was one of several rookies, which also included Fred Warner and D.J. Reed, who stood out in the win that snapped San Francisco's three-game losing streak.
Tartt did not practice Wednesday, and his status for the 49ers' Sunday rematch with the Seahawks is still unknown. If he does not play, Harris will have a third opportunity to start and improve upon the last time he played the division rival.
"I'm going to redeem myself with tackling, most definitely," Harris said. "The first game I came out of, I feel like I didn't do well tackling. From here on out, that's one of my biggest keys. Just keep moving forward, keep stacking these games on top of each other."
Kentavius Street practices for the first time
Harris was one of two selections in the 49ers' 2018 draft class who were not immediately available to play due to injuries. The other was fourth-round pick Kentavius Street, who tore his ACL just weeks before April's draft.
The rookie defensive lineman practiced for the first time with the 49ers Wednesday. They went through two live periods, with the rest of practice as a walk-through. Street remains on the non-football injury list, but he is eligible to practice for the rest of the season. When it concludes, he will be added to the 90-man roster, like every other player.
"I'm pumped to get him out there today so he'll get two live periods and see how that goes and we'll adjust based off of that," Kyle Shanahan said prior to practice.
Shanahan added the plan is to test out Street on the interior defensive line and "big end" spots.
Injury report
The 49ers' injury report from Wednesday's practice highlighted 10 players.
The following players did not practice: Cassius Marsh (concussion), Mark Nzeocha (groin), Joe Staley (not injury related), Tartt (shoulder), and K'Waun Williams (knee).
The following players were limited: Matt Breida (ankle), D.J. Jones (back), Weston Richburg (knee), Malcolm Smith (achilles), and Laken Tomlinson (hip).