© Stan Szeto | 2018 Dec 9
---
SANTA CLARA — Prior to this season, the best player in Kyle Shanahan's offense had never been a tight end. There is no debate that title now belongs to George Kittle, who leads the next 49ers receiver by 740 yards through 13 games, this season. Opposing defenses are well aware of this, yet they have been unable to slow down Kittle largely because of Shanahan's ingenuity.
Last Sunday, Kittle came within four yards of Shannon Sharpe's longstanding single-game receiving record for a tight end, of 214 yards. Kittle caught seven passes for 210 yards and a touchdown — all in the first half.
When Seattle head coach Pete Carroll, who is preparing for his team's upcoming matchup with the 49ers, watched Kittle's historic game, he noticed the play-calling.
"I think (Shanahan) has recognized the versatility and utilized it really well," Carroll said on a conference call Wednesday. "When you look at the highlights of last week's game, the variety of places (Kittle) caught the football, and style of routes and all, were totally spread across the board."
Kittle's natural proximity to the line has opened up dozens of possibilities to feed him the ball. And Shanahan entertains just about everything possible, whether he's moving other players pre-snap to isolate Kittle, moving Kittle to expose a certain matchup, disguising him as a blocker, or lining up in various spots.
By an unofficial count, Kittle was deployed either on the line next to the tackle (like a traditional tight end) or as a wing back (a yard or two off the line of scrimmage) on 16 passing plays. On 17 such plays, Kittle was lined up in the slot. On the lone play he lined up out wide, he ran a "fly" route upfield, which opened up space for a completion to Marquise Goodwin.
It's fitting that Kittle caught the first pass of the game he dominated, a seven-yard completion on San Francisco's opening offensive play. The second-year tight end caught five passes for 94 yards in the first quarter alone.
His first big gain resulted in a 31-yard completion, featuring crafty play-design. Kittle lined up out wide, then motioned to the slot between Goodwin and right tackle Mike McGlinchey. Goodwin ran a "fly" route, forcing the left cornerback to account for him. Fullback Kyle Juszczyk dragged the linebacker originally lined up with Kittle to the sideline, opening the right side for the speedy tight end. He ran a corner route, and the linebacker was late to react. Kittle turned upfield for another 12 yards.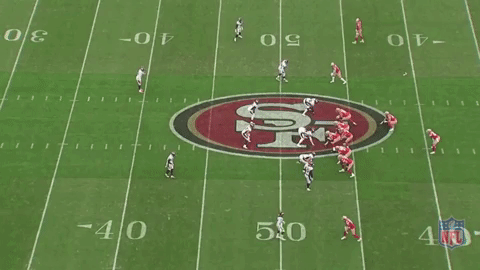 An underrated part of Kittle's performance was the three defensive holding penalties he drew. He continually created problems for isolated linebackers and safeties. The first such penalty came midway through the first quarter. Broncos safety Justin Simmons held Kittle.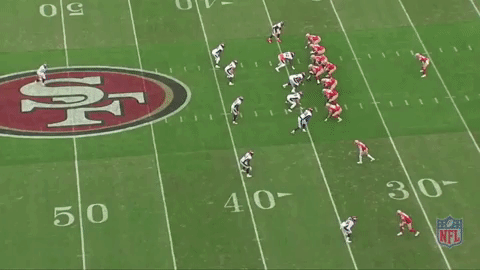 Three plays later, quarterback Nick Mullens found Kittle for a third-down conversion. The Broncos blitzed, and Kittle, lined up as a traditional tight end, dragged across the field before Broncos safety Will Parks reached him.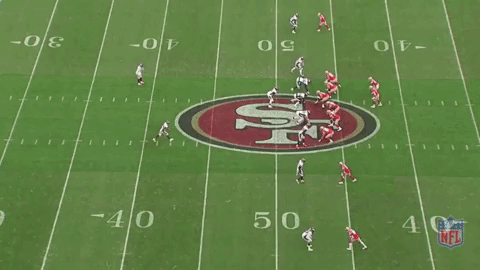 With 28 seconds left in the first quarter, Kittle ripped a 52-yard gain. Mullens initially looked Juszczyk's way, then found Kittle curling toward the middle. Broncos safety Darian Stewart bit on Kittle's fake to the sideline. He caught the pass and ran 45 yards upfield before being tripped up short of the end zone.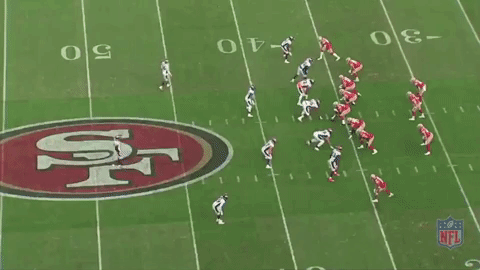 "I've got to pick my feet up," Kittle said postgame.
Kittle wouldn't make the same mistake on the next drive.
Shanahan's play-call freed Kittle for the 85-yard touchdown you've probably seen by now. Kittle recalls the Broncos linebackers blitzing on two previous run plays with similar looks. So, Shanahan dialed up a play-action call on the first play of the drive at the San Francisco 15-yard line.
Kittle lined up between left tackle Joe Staley and fellow tight end Garrett Celek. Goodwin ran across Mullens to fake a reverse. The second-year quarterback then faked a handoff to running back Jeff Wilson. Kittle dragged across the line, momentarily disguising as a blocker before looping out. The Broncos linebackers bit on the run, as the 49ers expected. Pettis dragged the safety away from Kittle, leaving acres of space. Mullens hit Kittle in stride, and he outran everyone else.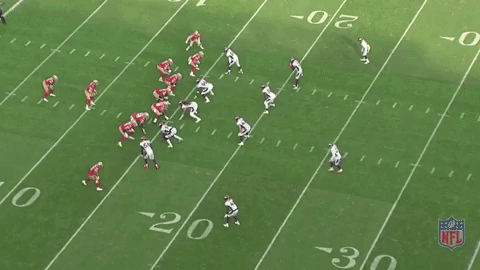 "All alone," Shanahan said as the play unfolded.
It was the third-longest pass play of the NFL season. Kittle also owns the fourth-longest pass play, an 82-yard touchdown.
"That was a play-action where he inserted in the middle of the line and it's tough for the guy who has (Kittle) to decide whether to run-fit or cover," Shanahan said of the 85-yard touchdown. "So, that's how you get someone all alone. But, they do a ton of man coverage so I was able to get some guys in some good looks."
Kittle caught each of his final two passes last Sunday by lining up in the slot. On the first, Kittle used his strength to fight off Cravens by curling on the right hash.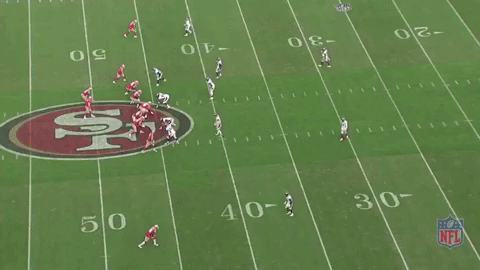 Two plays later, Kittle caught an 18-yard pass to eclipse the 200-yard mark. 49ers receiver Kendrick Bourne ran a slant, drawing the linebacker responsible for Kittle. He was wide open, again, by virtue of crafty play design and some miscommunication on the Denver side.
Kittle's receiving production stopped after his seventh catch. He could, however, have broken Sharpe's record in the first half had Mullens spotted Kittle over the middle on the following play.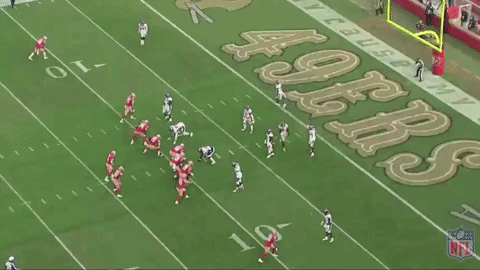 Kittle's prolific half highlighted how creatively Shanahan has used the second-year tight end. Kittle has 712 yards after the catch, the second-most in the NFL. That's as much a testament to Shanahan's play-calling as Kittle's ability. Carroll agrees.
"I think that's just Kyle's ingenuity and creativity that really helps a player like Kittle do so well," he said.