© Stan Szeto-USA TODAY Sports
---
One of the 49ers' biggest weaknesses last season was their secondary. That likely won't change this season, but in theory, the secondary group should improve. Again, that's in theory.
Ahkello Witherspoon regressed significantly last season after a positive rookie campaign. Jimmie Ward played alright when he was on the field, but yet again struggled to stay healthy, as has been a theme for him. Jaquiski Tartt's season was wrecked by a shoulder injury which was never resolved.
Tarvarius Moore was a pleasant surprise, but looked like he has more to offer, a likely product of playing corner, as opposed to his more familiar safety slot where he will return this season. Adrian Colbert was sometimes exploited on deep routes in brutal fashion, to a point that was almost intolerable. A prime example was in Week 5 on the first play of scrimmage, when he blew a coverage on a 75-yard touchdown pass from Josh Rosen to Christian Kirk.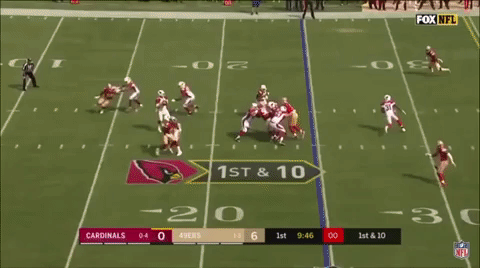 D.J. Reed showed that he could develop into the team's nickel corner of the future, taking over from K'Waun Williams late in the season after struggling when slotted at safety. Marcell Harris and Antone Exum managed to carve out roster spots and should challenge for spots again, as Sherman has said.
But let's not pretend that group was anything to rave about. The team was not only dead last in interceptions, and turnovers, but pass deflections as well. The 49ers' 37 pass deflections were last by a whopping nine from the next-lowest team in the Detroit Lions (46).
The secondary needs to be more aggressive, to take chances. Every NFL team approaches their offense now by prioritizing the air above the ground attack, and the 49ers failed to take advantage of mistakes last season, to break up passes and try and take some chances on jumping routes.
The team signed Jason Verrett, who, if healthy, could be a fantastic addition as an immediate starter. The problem with that, of course, is that Verrett has played five games over the last two seasons, and has only ever played a maximum of 14. To expect that he'll suddenly be healthy is wishful thinking.
They also drafted Tim Harris in the sixth round from the University of Virginia, and while late-round picks can always play above their draft slot, it would be foolish to go into the season expecting a major contribution from Harris. It begs the question why the team went with punter Mitch Wishnowsky over a defensive back in round four, as explored here.
The 49ers have also been rightfully questioned for their decision not to go after a secondary player in free agency, including some, like Tre Boston (who picked off the 49ers' last year in that Week 5 game with the Arizona Cardinals), who are still on the market. The team has made it clear that it is fine with its group, but it remains to be seen who will take a big enough jump to improve it significantly.
What Kyle Shanahan and Robert Saleh are likely hoping for is that the team's massive upgrades on the defensive line front put far more pressure on opposing quarterbacks than there was last season, thus, making plays shorter and pressuring quarterbacks into making mistakes. There's no question that the additions of Dee Ford and Nick Bosa will result in more turnovers (even without those additions, the 49ers probably aren't going to break the NFL-record low seven turnovers and two interceptions they had last season), and an easier time for the secondary.
Still, against premier offensive lines and intelligent, veteran quarterbacks, you need to have a quality secondary.
Roughly eight of the players on this year's roster will be cut if last year's numbers are any indication, when the 49ers kept four safeties and six defensive backs (the positioning is fluid for some of the players, but 10 secondary players made the final roster). Here's what the roster looks like as of now:
Last year's corners:
Richard Sherman, Ahkello Witherspoon, Jimmie Ward, Greg Mabin, Tarvarius Moore, K'Waun Williams (6 players)
This year's corners:
Richard Sherman, Ahkello Witherspoon, Jason Verrett, Tarvarius Moore, K'Waun Williams, Dontae Johnson, Greg Mabin, Tim Harris, Emmanuel Moseley, Alex Brown (10 players)
Last year's safeties:
D.J. Reed, Adrian Colbert, Jaquiski Tartt, Marcell Harris (4 players)
This year's safeties:
D.J. Reed, Jimmie Ward, Antone Exum, Adrian Colbert, Jaquiski Tartt, Marcell Harris, Tyree Robinson, Demetrius Flannigan-Fowles (8 players)
Note: This piece is part of a countdown to training camp feature which, each day leading up to the start of training camp on July 27, will take a look at one of the 10 biggest questions the 49ers will have to answer this season. While camp officially starts on July 26, the first practice is July 27.
To read Thursday's piece on the 49ers' drafting of a punter in the fourth round, click here.