---
Draymond Green is different this year. He's leaner and quicker. He's said he's given up some old, alcohol-related habits off the court. That he's more focused and motivated than in the previous two years.
As he knows the Warriors can win at the highest level, he's locked in.
Golden State coach Steve Kerr has repeatedly called Green the best defender in the world. It seems like Green proves the take every night. But his performance Friday night against the Suns was as impressive as any single game he's played — at least this year.
Yes, the Suns were on the second night of a back-to-back. Yes, they didn't have Devin Booker. But the 118-96 win was, as much as any other game, Draymond Green's resume reel to send into the Defensive Player of the Year voters.
Green became the first Warrior ever to record a statline of nine points, nine rebounds, nine assists, six steals and three blocks. Overall this season, he's first in individual defensive rating, and second in both defensive box plus-minus and defensive win shares. His teammates routinely endorse for his 2021 Defensive Player of the Year candidacy, and he himself said he wants to win the award again.
"Draymond Green was brilliant tonight," Kerr said. "He does everything for us defensively. He captains the defense; he's the one directing traffic. He defends guards on switches, he'll guard Deandre Ayton and everybody in between. And he's all over the place with his help."
Kerr later added that the "beauty" of Green's defensive acumen is his versatility. That manifests in Green's on-ball and off-ball defense. He's equally adept at guarding Deandre Ayton in the post and Chris Paul on the perimeter, while also being able to disrupt plays with off-ball rotations.
Early in the game, Green made a play that should be renamed after him because of how special it is and how frequently he's done it.
With the Warriors still tracking back in transition, Phoenix pushes the ball. They have a numbers advantage, which turns into a two-on-one opportunity with Jae Crowder slashing to rim and Ayton ready for a pass underneath. Green is tasked with defending both Crowder and Ayton.
Green anticipates Crowder — a much more aggressive shooter from outside than in the paint — to lob to Ayton, so he plays the two-on-one right down the middle, feinting toward Crowder momentarily. Green forces Ayton to catch Crowder's pass on the block instead of at the rim, and Ayton misses a tough jump hook (Ayton did however corral the offensive rebound).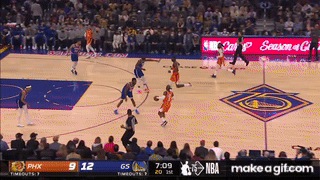 The split-second calculation between guarding the shooter and the possible lob recipient is so keen. Later in the game, in a similar situation, he opted to stick with the Ayton at the dunker spot even more pronounced because Ish Wainright was driving to the hoop; Wainwright clanked a floater.
Call this two-on-one disruption The Draymond.
If The Draymond is all about brains, this next play shows his brawns. Green looks as strong physically as he's ever been, a claim backed up by his comments about his focus and commitment in the weight room. He's said he's motivated to show his kids just how great of a player he is as they grow up, and part of that is getting into peak condition.
Look how far Ayton catches the entry pass on his post-up. Green bodies him all the way out to the foul line-extended — way further than where the center is most comfortable. Green stands his ground when Ayton tries to back him down, and in turn Ayton chucks up a wild fadeaway that had no chance.
Juan Toscano-Anderson said Green is like the Steph Curry of defense. Like Curry scores at all three levels, Green can defend them, too.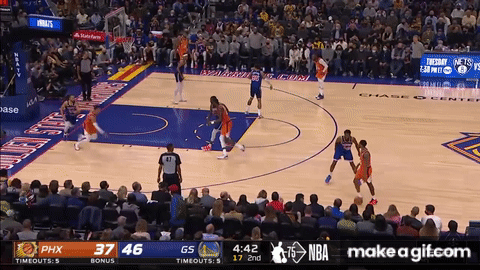 One of the reasons the Warriors have the best defense in the NBA is because Green can execute every pick-and-roll coverage possible. Here, he's in drop coverage, meaning he hangs back and lets Gary Payton II try to navigate the high ball screen against Cameron Payne. His responsibility is to muck up the paint.
The most impressive part about this play is that he does it without fouling — something the rest of Golden State struggled to do Friday. Recording six steals and three blocks while only committing two fouls is sorcery.
But when Payne attacks Green, he goes straight up to maintain legal guarding position, then waits until Payne is caught coming down to snatch the ball.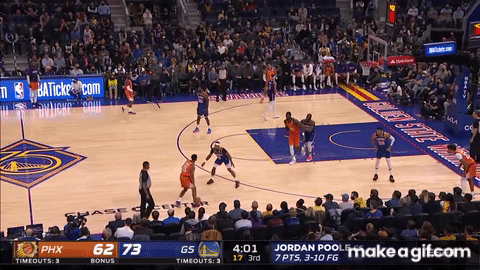 Green also keyed GSW's game-winning run in the fourth quarter with his defense. The possession before this play, he picked up Payne on a switch and sagged off almost all the way into the restricted circle, giving him a wide open jumper from the free throw line.
On pull-up 2-point shot field goal attempts, Payne is shooting 29.2%. Baiting him into taking that shot was masterful. And then on the below play, Green defends another Payne-Ayton pick-and-roll, dropping back. Payne may have decided not to attack because of how the previous possession went, and instead swung it.
So again, Green has to guard Ayton in the post, and again he pushes him way off his spot. By this point in the game, Green has downloaded Ayton's tendencies. When the center tries to rip through, Green uses his lightning quick hands to knock it loose into the backcourt. The Suns take a costly shot clock violation.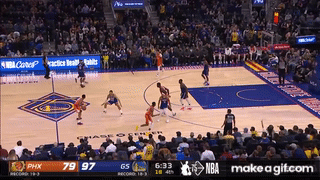 It's much more difficult to capture and explain great defense than it is great offense. So much of what makes Green incredible likely goes unnoticed — Toscano-Anderson called it "not sexy" — and there were probably 25 other plays from Friday's game that were just as impressive, yet more subtle than the above clips.
And those anonymous plays, perhaps even more than the highlight blocks or shutdown switches, are why he's the early frontrunner to win his second Defensive Player of the Year.